When you first discover Geocaching you wonder how you could have been unaware for so long.

There are 6 million geocachers worldwide and over 2 million active geocaches. There are even caches on Antarctica.

Looking back now there were signs, we just didn't know it at the time. My sister remembers clearly a few years ago watching two people hanging around suspiciously under a pub sign (The Three Frogs) and then leaving something underneath it. When she went to have a look there was a plastic frog sitting on the floor. Now we realise that it was a cache, but at the time we thought it was all really bizarre. My mum also remembers seeing two people outside a bush looking around and then disappearing inside for a minute, and now it all makes sense.

Welcome to a new world of muggles, hitchhikers and travel bugs....
So what is Geocaching?
Geocaching is like a real-world treasure hunt. Geocachers use a GPS to hide or to track down 'caches' all over the world.
A 'cache' is typically a small waterproof container, inside you can find a logbook, and possibly other items that can be swapped or moved around from cache to cache.
The first cache we tracked down was in the woods near to where I live. We followed the GPS until it said that we were within 30 feet and after that we had to hunt around until we found it.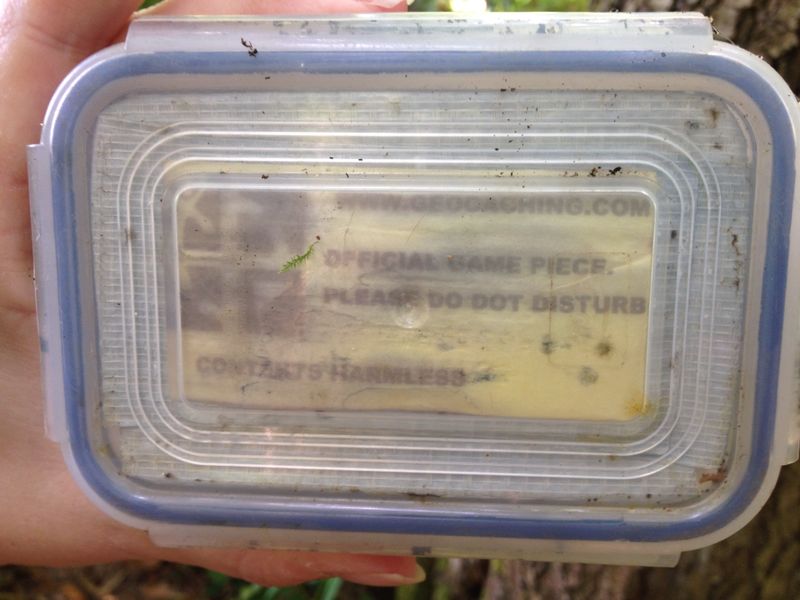 The great thing about Geocaching is that it gets you out and about exploring the area, and its a fun hobby for people of all ages.
More caches....
Caches can be hidden all over the place, in trees, under logs, or cleverly hidden in plain sight.

Geocaching with the family
You can download the introductory app for free, so give it a go.