Not a Good Start: How an Accommodation Issue almost spoilt my first impression of a wonderful city
Primo Hotel (ex Première classe Roissy - Goussainville)
I've stayed in many different styles of accomodation, and I am really not fussy or above staying in basic places. In fact some of my favorite places have been huts with no luxuries. But I have realised that what I really don't like when it comes to accommodation is being mislead. When you are expecting a certain standard but when you arrive it is nothing like you were lead to believe. I find it really unsettling and unfortunately it can effect your first impressions of a new place, especially when you have no choice but to find alternative accommodation.
I have always said that online reviews have to be taken with a pinch of salt, as people are more likely to talk about a bad experience so the hotel may not actually be that bad you are just not seeing the people that are satisfied.That said I wish I had looked at some reviews before booking to stay at The
Première classe Roissy in Goussainville, just outside of Paris, because these remarks and figures would have definitely changed my mind (and they are completely right)
Tripadvisor
Booking.com
So here's the story....
I was on holiday in France during the summer and booked to stay at the Premier Classe Rossy in Gousainville for three days from the 17th- 20th August. On checking in to our room we realised that we had been given a smoking room, which we did not want and we did not book. We were travelling with a 14 year old child so this was especially unsuitable for her. We asked to change rooms but the lady on reception said that there were no others available to us; she also said that none of the rooms were smoking and that she would get the cleaner to come and spray some perfume in our room. The room was number 41 and I can tell you now that it wasn't one cigarette smoked in there but that the room had been smoked in for a long time, it made you feel sick the smell was so strong. On top of that there were burn holes in the bed linen, so all in all the room did not come up to standard and wasn't ok for us to stay in, and the cleaner was not going to be able to spray perfume and make the room better. So again after a talking it through and deciding that we could not stay in the hotel we went back to the reception and asked for our money back and said we would find other accommodation. The lady at reception tried to be helpful and find us accommodation in the hotel opposite, but there was no space, and she said that she couldn't refund my Visa card as it was complicated. She said her manager would be in at 2pm so come back then. At this point it was about 11:30 am so we left the hotel and went on the hunt for another hotel. Fortunately we had stay at a very nice Camponile the night before so decided we would try to find another for the next three nights. We finally settled in St.Dennis, checked the room and paid, and then had to drive back to Goussainville to meet the manager of Premier Classe. Again the manager tried to be helpful, but he couldn't refund my card payment, and said that they could only send a cheque to my home address in Euros for 2 nights and not 3. The cheque could also not be sent until after the 29th August when the top manager would be in to sign it.
By this time we utterly fed up, we had thought we would be enjoying the sites of Paris by this point but instead we were trying to get our money back from a disgusting hotel.
What sort of hotel cannot refund a customer, and what sort of hotel refuses to refund a nights stay when we didn't use the room and what was provided was not fit to stay in?
The manager even said that he knew that people smoked in the room but what could he do about it? What a joke! No non-smoker or family would ever want to stay in the rooms there, they are not as advertised and they are not clean.
In the end we decided we had to walk away, forget about it and enjoy our time in Paris. I had no idea if I would ever get my money back but I knew I needed to let it go or the end of the holiday would be ruined.

On the 1st September after being home for a couple of weeks and having had no word from the hotel I emailed to find out what was happening. The reply I received is below-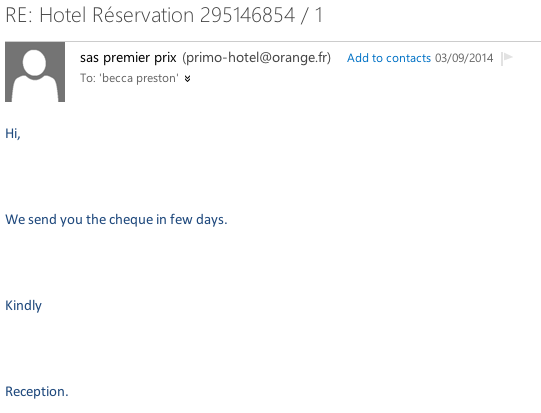 I did eventually receive the cheque, but after losing one night I had paid for and then having to pay bank fees to convert euros to GBP it really didn't cover much. But it was better than nothing.
My only advise going forward is to: one have a quick browse of the reviews before you go, two always ask to look at the room first if you have any concerns, and three never stay at the Primo Hotel Goussainville.