Australia and Oceania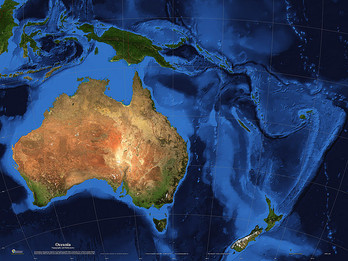 Regions & Countries-

Australia

New Zealand

Melanesia (the islands in the southwestern part of Oceania- Fiji, New Caledonia, Papua New Guinea, Solomon Islands, Vanuatu

Micronesia (the islands in the northwestern part of Oceania)- Guam, Hawaii, Jiribati, Marshall Islands, Federated States if Micronesia, Nauru, Northern Mariana Islands, Palau

Polynesia (the islands in the eastern part of Oceania)- American Samoa, Cook Islands, French Polynesia (Tahiti), Niue, Pitcairn, Samoa, Tonga, Tuvalu

---
Bucket List Choices-

Queenstown, New Zealand
Snorkel/Dive the Great Barrier Reef- The reef is located off the north-east coast of Queensland, Australia. The Great Barrier Reef is the worlds largest coral reef system, containing over 2,900 individual reefs and stretching for over 2,600 kilometers. A great place to explore the reef from is Cairns. Cairns is surrounded by natural beauty and is the only place in the world to have two world heritage listed areas side by side, the reef and The Daintree Rainforest (see More to See and Do).
Skydive/Bungy/Canyon Swing in Queenstown, NZ- Queenstown is in the south west of New Zealands South Island and is known as 'The Adventure Capital of the World'. Popular activities include sky diving, bungy jumping, canyon swings, skiing, snowboarding, jet boating, whitewater rafting, and mountain biking.
Swim in Jellyfish Lake on the Pacific nation of Palau-
Palau is an island country located in the western Pacific ocean and is part of
Micronesia.
The diving there is considered to be one of the underwater wonders of the world.
A must see when visiting this paradise island is the
unusual phenomena of
Jellyfish Lake. Snorkeling here is an experience not to be missed as over the course of time the resident Jellyfish have completely lost
their sting.
Discover an underground labyrinth of caves and see the glow warms in Waitomo, New Zealand-
Waitomo is in the North island of New Zealand. For an underground adventure try Black Water Rafting. This involves abseiling, climbing, jumping and floating through the subterranean glow worm caves.
---